Why study in USA?
Immerse yourself in a highly esteemed global higher education system that provides an immersive, engaging, and collaborative learning environment. Access state-of-the-art technology and groundbreaking research to enhance your educational experience. Enjoy a wide array of schools, diverse study disciplines, and specialized qualifications that are unique and hard to find in other regions. Benefit from a flexible education system that enables you to choose from a variety of programs tailored to your academic and career objectives. As a graduate, you will possess a comprehensive global perspective and practical skills that are applicable in real-world scenarios, equipping you for future success.
Quick facts
Explore 12 of the world's top student cities according to the QS Best Student Cities 2023 ranking.
Access both merit-based and need-based scholarships to support your education.
Take advantage of internships (CPT) for up to 12 months while studying.
Benefit from post-study stay-back visas (OPT) for up to 3 years, specifically for STEM programs.
Join the vibrant community of over a million international students studying in the USA.
Choose from a diverse selection of over 4,500 accredited universities and institutions.
Discover that over 25% of the world's top 100 universities are located in the USA.
Engage in research, teaching, and graduate assistantship opportunities.
| Types of Expenses | Annual Expenses in USD |
| --- | --- |
| Tuition Fees for one-year (Indicative)* | 25000 |
| Living and Accommodation | 15000 |
| Airfare from India to USA | 1000 |
| Visa Fees (Visa & SEVIS) | 510 |
| Total Expenses | 41510 |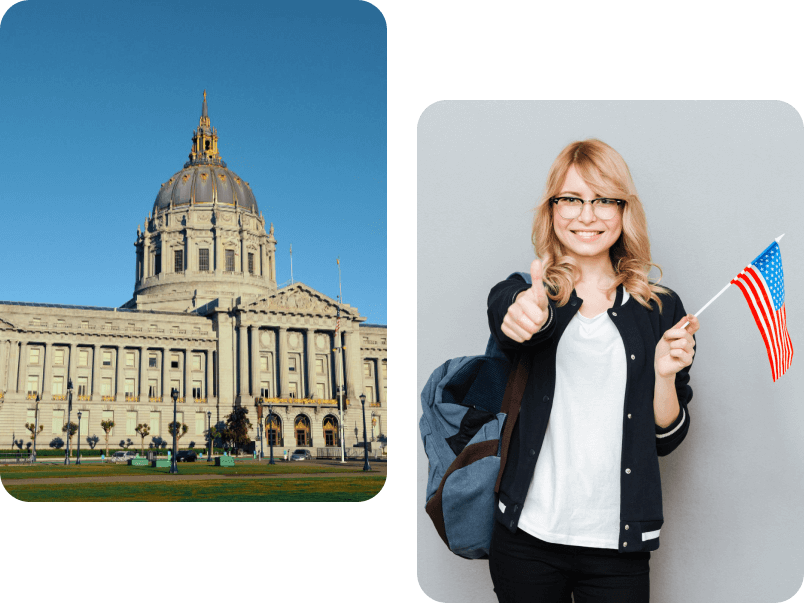 Careers & Industries
The United States, renowned for its technological advancements and economic dynamism, stands as the largest and most influential global economy. Key sectors driving this highly productive economy encompass healthcare, technology, construction, retail, manufacturing, finance and insurance, as well as real estate. International students have promising career prospects in top-tier positions such as medicine, computer and information systems management, architectural and engineering management, and marketing and financial management, which offer high remuneration opportunities. With a high per capita income, the standard of living in the USA ranks among the world's highest. The nation excels in various aspects of well-being, including income, wealth, health status, employment, education, skills, and environmental quality.